The Perfect Hotel in Marmaris
If you are looking for a perfect holiday experience with memories to cherish you are at the right place. Let's plan a reasonable stay for you.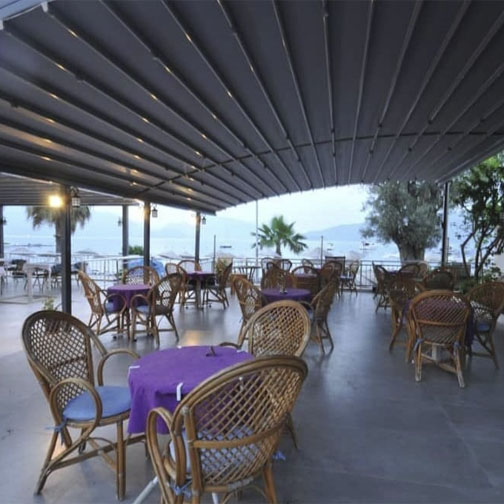 We make it easy for you to visit places surrounded by natural beauty and attractive tourist attractions. We can also help you arrange transportation to get to and from nearby places more easily.
Experience the Life of Marmaris
We will help you to live Marmaris life literally. From living the entertainment life to eating authentic delicacies, you're sure to walk home with memories and great moments.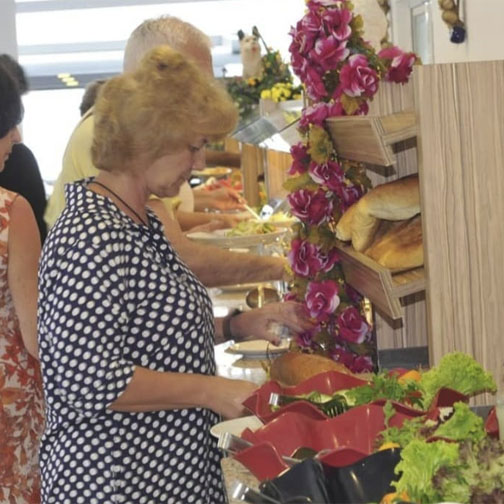 Amenities & Facilities
If you are looking for a relaxing, refreshing and rejuvenating experience altogether, we offer all of that under one roof.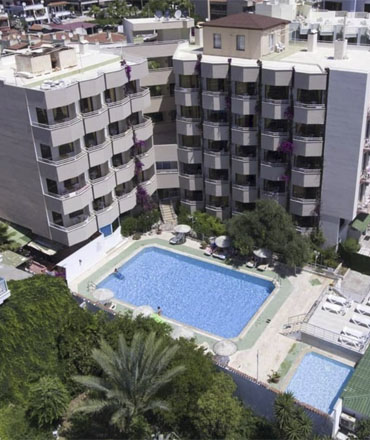 Main Amanities
* 50 guestrooms
* Daily housekeeping
* Near the beach
* Restaurants and bar/lounge
* Outdoor pool
* 24-hour front desk
* Air conditioning
* Front desk safe
* Snack bar
* Laundry service
* Free buffet breakfast, free WiFi in the lobby and free parking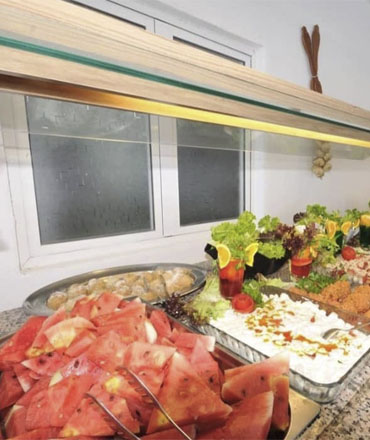 In the Hotel
Food and drink
* Free buffet breakfast daily
* Restaurant
* Bar/lounge
* Snack bar/deli
* Room service (during limited hours)

Services
* 24-hour front desk
* Dry cleaning/laundry service
* Laundry facilities

Facilities
* Safe-deposit box at front desk
* Designated smoking areas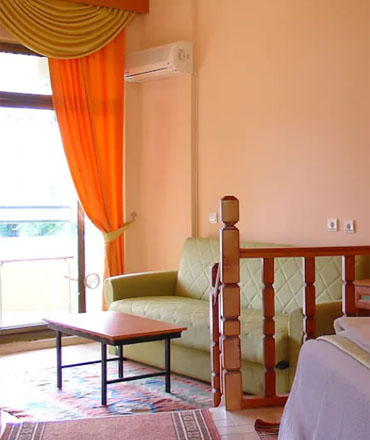 In the Room
* Air conditioning
* Balcony
* Private bathroom
* Shower only
* Free toiletries
* Hair dryer
* TV
* Satellite TV channels
* Fridge
* Daily housekeeping
Some of Photos from Amos Hotel
Take a look at some pretty pictures captured in and around our premises.
What Our Guests Say
We take pride in serving our guests with the best experience. Read what they say.
"Me and 3 of my friends went to Turkey for a weeks holiday, originally in our holiday package we were booked in at Markiz hotel which was horrible, just look at the reviews. We moved to Amos Hotel after 2 nights and the manager was lovely; we told him what a horrible experience we had at the previous hotel, he made us feel welcomed and even gave us welcome cocktails 🙂 which was lovely. The room was really nice, we had sea and pool view. Food was fine. and all staff were very friendly. Staying at Amos hotel made our holiday in a way. Will definatly go back."t ullamcorper."
"As with so many others, my wife was religiously reading trip advisor whilst we tried to save a few quid and book online (we got a fantastic deal for a family of 4, half board). With so many conflicting reviews I was obviously concerned. Well guys, theres no reason to be. This hotel is fantastic value for money! Positioning is perfect. food (as long as you understand what a Turkish breakfast consists of) is fine and the staff are friendly, courteous, helpfull and genuine nice people."
"5 aylık hamile eşimle kaldık. Marmaris'in sanki Türkiye'de değilmiş izlenimi veren düzenli, temiz, kurallara uyulan siteler bölgesinde. Çok güzel bir plajı ve denizi var. Su insanı taşıyor ama fazla tuzlu değil, ne çok sıcak ne de çok soğuk. Yüzmek için harika bir yer. Otel şehirin içerisinde bir şeye ihtiyacınız olduğunda hemen çıkıp alabiliyorsunuz. Hemen hemen her şey var etrafta. Personel ilgili alakalı ve cana yakındı. Eğer "Her şey dahil ölene kadar yemek yiyeceğim, gösterişli resimler çekip arkadaşlarımla paylaşacağım, lüks benim için her şeyin önünde" diyorsanız burası size göre değil. Ama sakin, güzel bir tatil yapmak istiyorum, saçma sapan ek şeylere ihtiyacım yok, basit bir oda, çok güzel bir plaj ve deniz istiyorum derseniz burası ideal. Kesinlikle yine gelirim"er."
Plan an Unforgettable Experience in MarmarisToday!
We can help you fit your stay and experience within your allotted budget.